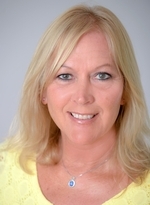 PROPERTY MANAGER / REALTOR®
As a licensed real estate agent in Rhode Island and Massachusetts, she spent several years in a leadership role. As a member of the Leadership Council, she was instrumental in establishing and implementing company policies and procedures. She also had a leading role by assisting new real estate agents. By providing them with her knowledge and expertise in Property Management, she paved the way for agents to be well versed on the subject. As an educator, she stresses the importance of providing exceptional customer service while conveying that "Communication is KEY."
An avid animal lover by nature, she is a member of Pelican Island Audubon Society and the Humane Society of Vero Beach. She provides excellent Property Management services to her existing list of loyal clients and looks forward to meeting more in the future.
Her dedication to provide clients the absolute best customer service in combination with her accomplishments, serves as an added asset to RE/MAX Associated Property Management Division.

Sorry we are experiencing system issues. Please try again.