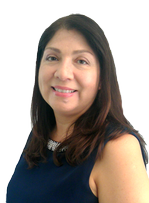 772-234-1111
772-257-9968 cell phone
adriana.vbre@gmail.com
3975 20th Street, Suite E
Vero Beach FL, 32960
Receive Email Alerts from Me
She specializes in residential sales and leasing. Having been a property manager, her clients benefit from my established relationships with potential buyers.  This unique position has also allowed me the opportunity to assist tenants to transition to become first time home buyers.
As a military spouse (retired) she also understands the needs of military personal and individuals relocating and can support in their search.
Prior to entering into real estate she worked in sales in the cruise and banking industries, and was a proprietor of a small business.
Her ability to work with all types of clients and understanding their needs lends itself to matching the perfect home with the right client.
Sorry we are experiencing system issues. Please try again.