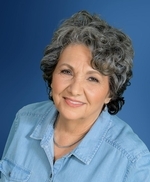 772-234-1111

561-305-7139 cell phone

ciambriello@bellsouth.net
3975 20th Street, Suite E
Vero Beach FL, 32960
Receive Email Alerts from Me
Mary Lou attended Pace University in Pleasantville, New York for Real Estate and Broward College in Florida for Marketing and Salesmanship.  It is no surprise she was top in her class. She has 13 successful years of experience in real estate. She is know for her AWARD WINNING CUSTOMER SERVICE, Incredible Work Ethic and Creative Marketing Approach.  A successful listing agent Mary Lou attends all her showings, inspections, appraisals and closings.  To date she has never missed any.  If her clients live locally she presents offers in person.
A great communicator and writer, Mary Lou has published many original articles in the Sunday section of the TCPalm Real Estate Resource.   "I am tech savvy, but believe that real estate is a face to face business." Mary Lou believes that technology is a great tool and should be embraced but service is always personal.
Mary Lou's approach is to understand the client's goal and then work together to compose a plan.  If you have read her real estate articles or are a past or present client you know that she loves a plan. She is a hands on agent and does not pass off her files.  "I am not a production agent.  I am about my clients and work to help them with their goals.  I am the only person that works the files."  Mary Lou's hands on philosophy has made her a TOP PRODUCER.
Mary Lou is known as the "Blue Jean Broker" a nickname given to her when she was a Realtor for RE/MAX Advantage Plus in Palm Beach County.  This nickname is not about her attire, though she prefers blue jeans, but her approachability and work ethic. "I believe in facts, hard work and results."  Her listings include cottages to castles and she calls herself "an accidental commercial agent".
In the market to buy or sell, consider speaking with Mary Lou directly at 561.305.7139…or stop by our office at 5055 Highway A1A, Vero Beach where she is always in the office when she is not on appointments.   We are excited to welcome Mary Lou Ciambriello as our newest team member with RE/MAX Associated Realty where our agents make all the difference.
Mary Lou Ciambriello 's Listings