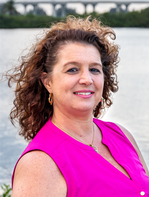 772-539-1130

954-806-1754 cell phone

kim@thenolangroup.com
3975 20th Street, Suite E
Vero Beach FL, 32960
Receive Email Alerts from Me
Kim grew up on Long Island, New York and came to Florida for family and college. After earning a bachelor's degree in Mass Communications from Atlantic University, she began her career in Public Information and construction marketing for the Florida Department of Transportation.
She left the workforce to dedicate her time to her daughters as a stay-at-home mom complete with girl scouts, sports and pta.
She eventually moved, with her husband and two daughters, to Vero Beach in 2017 and became an active member of Next Generation Veterans of Indian River County. The military is a deep tradition in her family.  She is the daughter of a Vietnam-era Air Force veteran and wife to a West Point graduate Army veteran and niece and cousin to the Navy and Marines.
Kim always had a desire to start her own business but wanted/needed guidelines. She also enjoys working with people especially on a personal, one-to-one level; this coupled with being fascinated with "all things homes" such as décor, materials, improvements, drove her to her entry into real estate.
Her favorite hobby is cooking and food science which extended to a certification in nutrition.  Kim's favorite place to wind down is by the water, preferably on a boat. If her TV is on, she is usually watching an NCIS of some sort, DIY home shows, baseball or hockey.