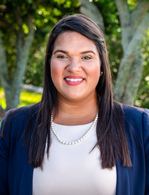 Jenipher left her home country of Venezuela when she was 15 in search of the American Dream. Learning a new language was not easy for her, but the challenge was certainly accepted.
She soon graduated from the University of Florida and immediately started working for The Walt Disney World Company. She was a Guest Service Manager in the hospitality industry, helping families create memories that would last a lifetime.
While working for Disney she obtained an MBA from Florida Institute of Technology, where she learned a lot about business management, procedures, and marketing. Through this experience she found her passion truly lies with people, and helping them attain their goals and dreams. This passion has led her to Real Estate, where she truly believes she can impact lives in a more profound manner.
Her passion for people extends to learning diverse cultures through traveling, both nationally and internationally. Thus far, she has visited 8 states and 14 different countries. She is hoping to visit all 50 states in the near future; there is simply so much to see and explore.
Jenipher Riviezzo 's Listings